When it comes to offering promotions to your customers on Enlite Mobile, there are some options that you can have in mind when setting up your application with the assistance of our Support Team.
Before getting into the details of how to configure mobile app promotions in Enlite and the different options, let's review how to create any regular promotions and discounts on the POS system, in this video: How to Configure Percentage Discounts in Enlite.
In order to create promotions to be available for the mobile apps, you need to follow the same steps: 
Go to the Back Office:
Open the Settings: 
Open the Discount Setup or Coupon Setup tabs, depending on what you want to enable. In the Discount Setup you will configure promotions by a Discount Rate (e.g. 15%), while in Coupon Setup you will configure promotions by fixed amount (e.g. $2)

| | |
| --- | --- |
| Discount Setup | Coupon Setup |
| | |

You will add Promotions that you want your customers to see on the mobile app, adding a "MOBILE:" preffix to the promotion name. E.g.: MOBILE: 4th of July 20%, MOBILE: Birthday Discount 15%, if they are percentage discounts, or MOBILE: Happy Street $5 if it's a coupon. They must be Active in order to be visible in the app:

You will add Promotions that you want to share privately with some customers in specific with a promo code and not be visible to everyone, adding a "PROMO:" preffix, and the promo code. E.g.: Promo: Welcome15, Promo: Company1 or  PROMO: Condo70. 
Whenever you want to disable any of these Discounts or Coupons, you can go back to this screen and, in the "Active" column, select "No". Customers won't be able to apply to them any longer, nor they will see them in the app.
Now, let's discuss the different scenarios of how you want to present them within the customer app:
1. You just want your customers to see the promos that you have available, but not apply them.
All promotions set as "MOBILE:" will be visible both in the Home and Promos screens:
| | |
| --- | --- |
| Home | Promos |
| | |
2. You want your customers to be able to apply promotions.
2b. Promo codes:
As mentioned, you can set promo codes and send them to certain customers privately. But in order to enable the Promo Code field, you must contact Support.
On the "Schedule Pick-Up" screen, your customers will find a "Promo Code" field down below, and the app will verify if the code they are entering is valid.
| | |
| --- | --- |
| Valid | Invalid |
| | |
2c. Promotions list
If you just want all the Mobile promos to be available for your customers to select them out from a list and apply them to their order, you must also request it to Support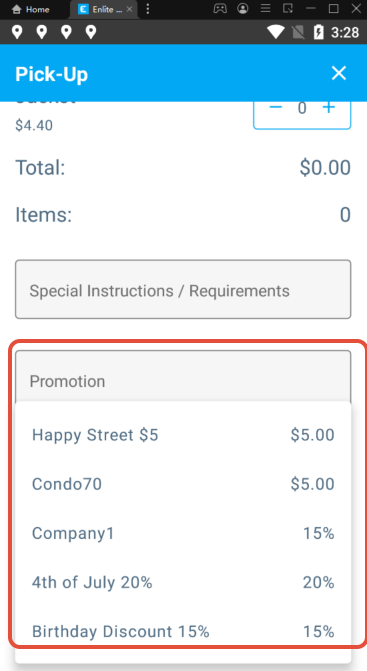 The following rules will apply to any promotions that you want to apply, either as promo codes or in the list:
One-time use promos: If you want to set up any promos that should be used with the first order only, such as a Welcome promotion or anything similar, we can make it a one-time use promotion. After having used it for the first time, the customer won't be able to apply it for a second time. To set this up, you must also contact Support.
Pick-Up Versions: Depending on the Pick-Up version, the discounts will be applied on the customer's end when detailing the order, or will be created as ticket notes and the employees at the store will need to apply them after detailing the order. Please check here which of the pick-up versions you are using: Enlite Mobile App - Pickup Schedule Versions
V3: Since customers are not able to detail their order, the promos will be added as ticket notes and the employees will need to apply them on the Invoice Detail screen.

Click here to learn how to apply a promotion in Enlite: Applying or Removing Discounts & Coupons
V4 and V5: Since the customer can detail their order on the app, the discount will be applied on the check-out.
3. You want discounts to be automatically applied when the customer selects certain items or a determined quantity of items.
If you want promotions to be applied automatically when your customer selects certain items, or a specified quantity of pieces, you must request Support to configure this for you.
E.g.: You will offer a 30% discount when a customer submits more than 3 pants.